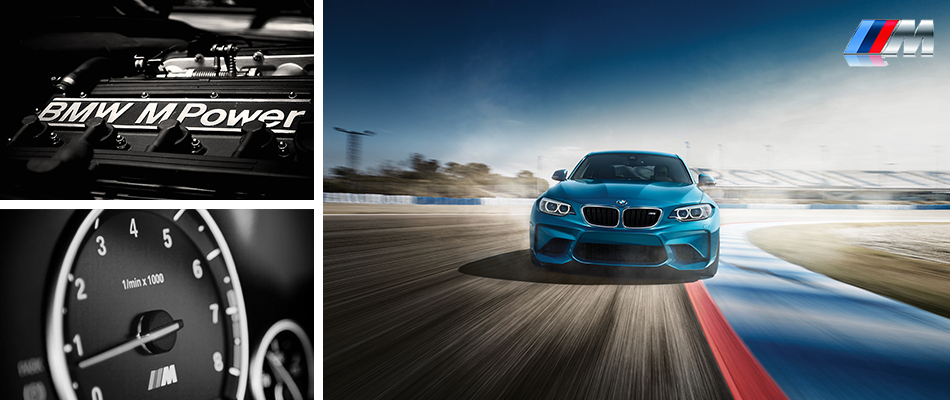 M. THE MOST POWERFUL LETTER IN THE WORLD.

MEET THE EVERY DAY RACECAR.
BMW M vehicles take the blistering power normally reserved for the track and couple it with responsive handling to deliver thrilling performance for everyday drives. At the heart of every M car is advanced BMW engineering using intelligent lightweight materials - including Carbon Fiber - to reduce the weight for optimum agility. Cutting edge TwinTurbo technology also ensures a lighter body by decreasing the cylinders, while still delivering more than 100 horsepower/liter. But there's more to M than just what is under the hood. Unique integrations like the M Laptimer App analyze your driving style on closed courses, while GoPro cameras allow you to film laps and view their footage in your iDrive display.
THE BIRTH OF M POWER.

What started on a track in 1972 as a division of BMW's racing teams, quickly became a thrilling passion for BMW enthusiasts. The on-track success spurred the world's most coveted high-performance street vehicles. From the original M1 and iconic E30 M3, to the most recent addition of the intensely powerful M2, the performance history of M cars goes unmatched. 
LEGENDARY PERFORMANCE CONTINUES.
After more than four decades of pure adrenaline rushes, BMW continues to push the limits. We invite you to grip the wheel of any of the 10 BMW M Models. Feel the speed and agility in our newest M2 Coupe or experience extraordinary performance in our bold X5 M or X6 M Sports Activity Vehicles. Meet the Power Couple of the M3 and M4 that continue to raise the bar for high-performance vehicles. From coupes and convertibles to Sports Activity Vehicles, you'll be impressed. 
BMW CLEVELAND: M CERTIFIED DEALERSHIP
BMW Cleveland is proud to be an M Certified Dealership. Certification allows BMW Cleveland to promote and differentiate M brand vehicles in our showroom. It combines three elements: Comprehensive Sales Training of M vehicles, Interior & Exterior Communications Components, and specific M Certified materials. M Power has always set the standard for true performance, and being an M Certified Dealer continues BMW Cleveland's devotion to exceptional performance as well. 
Please contact us or get directions to our showroom if you need any help regarding the M Series vehicles.